Although my work has focused on the facets of production and production design to a large extent, I do very much enjoy sinking my teeth into a creative project. Especially when I'm involved from the conceptual stage right through to production and completion. Be it Graphic Design, Photography or Art Direction, I love to create original work that is functional, maintains a certain clean aesthetic, yet aims to connect with an audience in a meaningful and authentic way.

My wife's family roots lie in the village of Taynuilt at the western entrance to the narrow Pass of Brander, in Argyll and Bute, Scotland. Famous for being a resting place for travellers, it also stands in relative close proximity to the famous West Highland Oban distillery, and the tasty single malt whisky crafted there and enjoyed by many in the region.

I have been a single malt Scotch Whisky fan for many years, and decided to develop a spec campaign for the brand. The concept was quite simple. I wanted to celebrate the product by framing it around honesty and what we often associate as honest/noble professions. A baker and firefighter. Each playing their part by providing a meaningful service to benefit society. In collaboration with copy writer Trevor Tuminski we began to expand the concept to underline specific traits like craftsmanship and commitment. I decided to cast a real local baker and firefighter for the photoshoot and wanted them to tell their story. In doing so the tagline "Oban. Come by it honestly." was born.
Creative Direction, Photography and Production:

Peter Moczulak
Copy:

Trevor Tuminski
Royal Highland

Fusiliers IPA
The Royal Highland Fusiliers of Canada, are a light infantry regiment from Cambridge and Kitchener Ontario who took part in the battles of the Somme and at Ypres during the First World War and fought from the beaches of Normandy to the banks of the Rhine in World War II. The Waterloo Brewing Company wanted to honour the men and women of the regiment by dedicating a batch of its award winning IPA.

After being tasked by the Isaac Reputation Group to design a custom label for this IPA, I decided to marry the regiment's badge with the tartan colours of its Scottish namesake allied regiment, the Mackenzie Tartan framed by the colours of its camp flag.

Art Direction, Production:

Peter Moczulak
In 2011 a close friend decided to organize a non-profit initiative to help 5 primary schools in Nigeria by donating backpacks filled with school supplies to 200 students there. In order to raise funds for the initiative, she held a charity event and asked me to come up with a design to promote the event. I subsequently designed an event poster and collateral.
I was inspired by her generosity, positivity and drive for change and as I worked to create the design, the concept literally materialized from out of the dark – the face of a child emerging from the darkness of illiteracy. To emphasize the scholastic/literacy theme, I constructed the child's face from alphabetized letter pairs.

Art Direction, Production:

Peter Moczulak
University of Toronto Press
The University of Toronto Press has been a client of mine since 2008. I design and format their annual course book catalogues, as well as a number of flyers, posters and other collateral materials.

Design, Production:

Peter Moczulak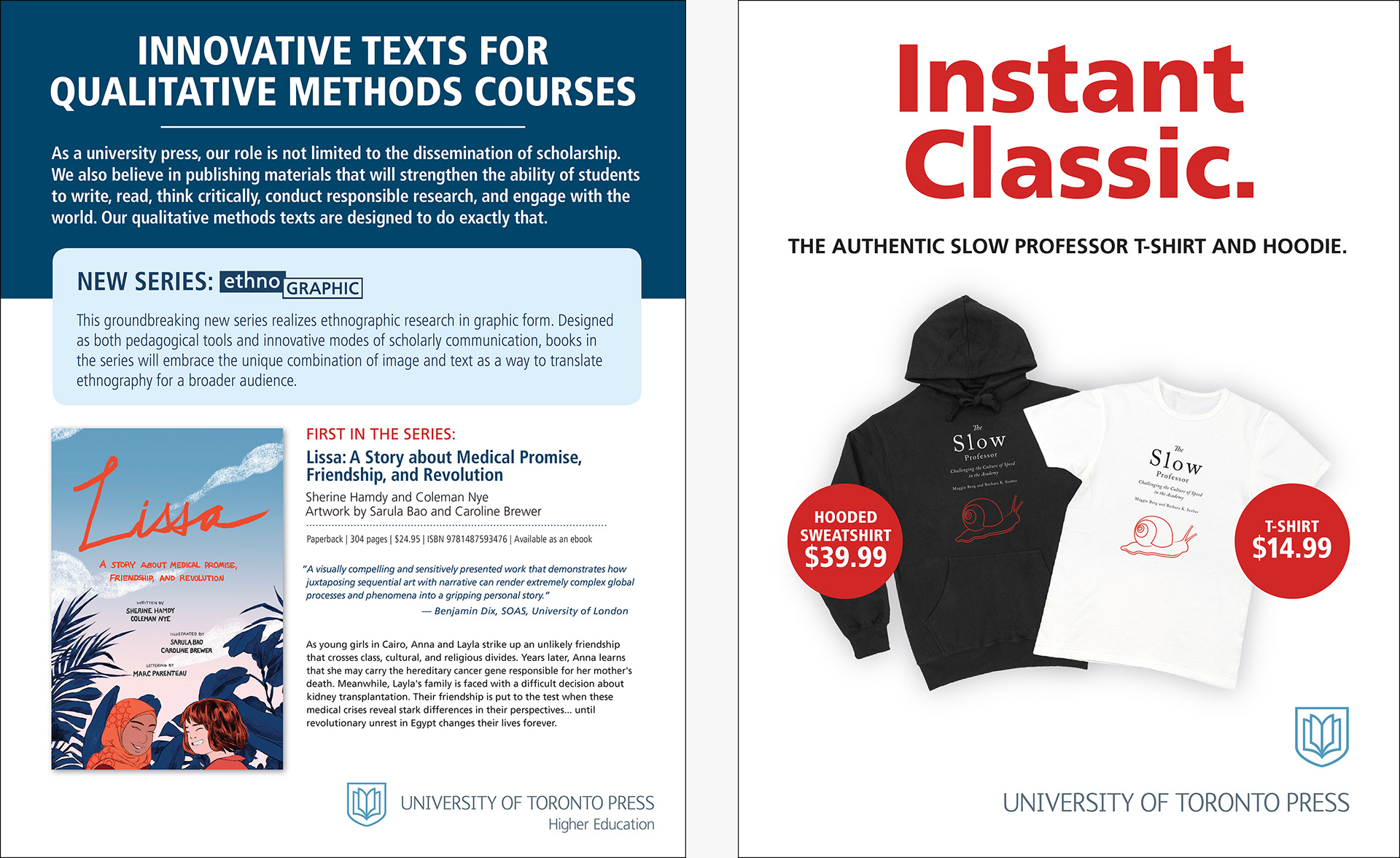 I created this Thomas Cook RFP booklet for Oryx Advertising in 2009. I wanted it to resemble a passport. Although the format was much larger I sourced and used the same substrate used on real passports and the gold foil stamping created a very convincing touch. Another small detail was to print a fine filigree as texture on each of the inside pages.

Art Direction, Production:

Peter Moczulak
This regional group benefits provider was looking to change their brand identity. From logo and stationary, to in-office signage, tradeshow booths and presentation folder redesign.

Art Direction, Production:

Peter Moczulak
Samples of product sell sheets I designed for Casco Inc.

Art Direction, Production:

Peter Moczulak